PM2.5 air detector application solution
2023-05-26
Handheld air detector application solution
With the development of technology and the continuous expansion of industrialization, the pH value in the air is abnormal. Therefore, people pursue a high quality of life and pay attention to health and environmental protection. Handheld air detectors have become one of the necessary spare parts for people in their daily lives. Since the PM2.5 air detector may generate large heat if used for a long time, in order to ensure the stable operation of the instrument, it is necessary to use a Computer fan to solve the heat dissipation problem.
1. Select a suitable Computer fan. The HXHFAN cooling fan has been carefully designed to provide excellent heat dissipation effect according to the heat dissipation requirements of the PM2.5 air detector. It can effectively measure the temperature of the PM2.5 air detector during continuous use. This ensures a stable heat level and minimizes the risk of overheating, thereby maintaining the service life of the PM2.5 air detector.
2. Customizable cooling performance: HXHFAN understands that different PM2.5 air detectors have different cooling needs. Therefore, their cooling fans provide customizable cooling performance to meet the specific requirements of each PM2.5 air detector model. This versatility ensures the best cooling solution for any PM2.5 air detector application.
3. Silent operation: In addition to excellent heat dissipation performance, the cooling fan of HXHFAN runs quietly. The noise level is as low as XX dB, ensuring that the PM2.5 air detector is not affected during operation,

4. Rugged design and long service life: The cooling fan of HXHFAN can withstand harsh environments. Its durable structure ensures reliable performance even under harsh conditions. The long lifespan of the fan ensures the operation of the PM2.5 air detector
Through the above measures, the heat dissipation problem of the PM2.5 air detector can be effectively solved, and the stable operation of the instrument can be improved.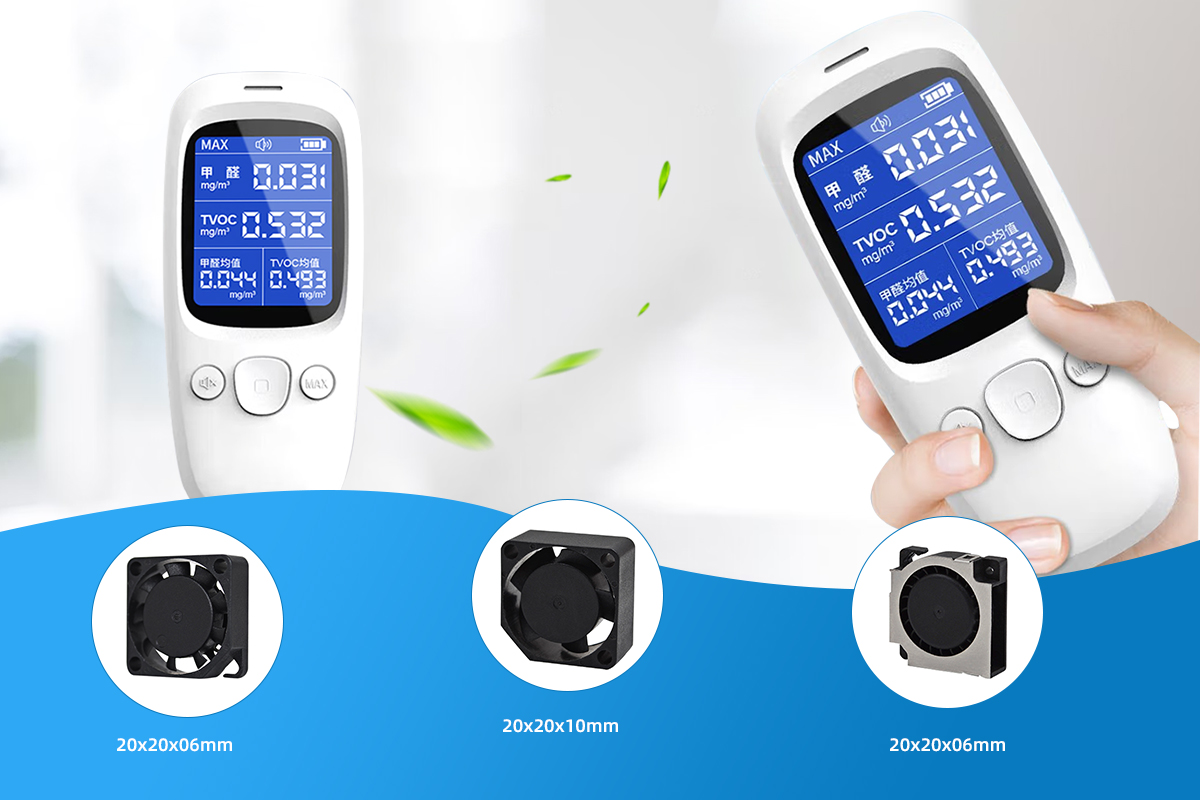 20×20×06MM

Model

Bearing

Rated Voltage

Startup Voltage

Current

Power

Speed

Air Flow

Static Pressure

Noise

Part NO.

Function

System

VDC

VDC

A

W

RPM

M

3

/min

CFM

mmH

2

O

INH

2

O

dBA

HDH0205HK

-A

Hydraulic

5

4.0

0.22

1.10

15000

0.03

1.17

3.93

0.15

14.5

HDH0205MK

-A

4.0

0.17

0.85

12000

0.03

0.91

2.51

0.10

11.7

HDH0205LK

-A

4.0

0.12

0.60

9000

0.02

0.73

1.43

0.06

8.3

HDH0212HK

-A

Hydraulic

12

6.0

0.11

1.32

15000

0.03

1.17

3.93

0.15

14.5

HDH0212MK

-A

6.0

0.10

1.20

12000

0.03

0.91

2.51

0.10

11.7

HDH0212LK

-A

6.0

0.08

0.96

9000

0.02

0.73

1.43

0.06

8.3
20×20×10MM

Model

Bearing

Rated Voltage

Startup Voltage

Current

Power

Speed

Air Flow

Static Pressure

Noise

Part NO.

Function

System

VDC

VDC

A

W

RPM

M

3

/min

CFM

mmH

2

O

INH

2

O

dBA

HDH0205HG

-A

Hydraulic

5

4.0

0.16

0.80

11500

0.03

1.04

1.30

0.05

15.6

HDH0205MG

-A

4.0

0.08

0.40

8500

0.02

0.65

0.82

0.03

11.1

HDH0205LG

-A

4.

5

0.06

0.30

5500

0.01

0.29

0.29

0.01

8.3

HDH0212HG

-A

Hydraulic

12

6.0

0.16

1.92

15000

0.05

1.89

1.89

0.07

23.6

HDH0212MG

-A

6.0

0.08

0.96

12000

0.04

1.56

1.53

0.06

16.1

HDH0212LG

-A

7.0

0.06

0.72

9000

0.02

0.81

1.03

0.04

11.5
20×20×06MM

Model

Bearing

Rated Voltage

Startup Voltage

Current

Power

Speed

Air Flow

Static Pressure

Noise

Part NO.

Function

System

VDC

VDC

A

W

RPM

M

3

/min

CFM

mmH

2

O

INH

2

O

dBA

HBH0205HK

-A

Hydraulic

5

4.0

0.16

0.80

15000

0.02

0.62

3.14

0.12

34.5

HBH0205MK

-A

4.0

0.12

0.60

12000

0.01

0.51

2.57

0.10

27.5

HBH0205LK

-A

4.0

0.08

0.40

9000

0.01

0.41

1.96

0.08

21.6

HBH0212HK

-A

Hydraulic

12

6.0

0.11

1.32

15000

0.02

0.62

3.14

0.12

34.5

HBH0212MK

-A

6.0

0.08

0.96

12000

0.01

0.51

2.57

0.10

27.5

HBH0212LK

-A

6.0

0.05

0.60

9000

0.01

0.41

1.96

0.08

21.6
High-speed camera application solution
Stage lighting cooling application solution