High-speed camera application solution
2023-05-26
High-speed camera application solutions 
In the field of high-speed photography and videography, it is crucial to accurately capture every minute detail. An effective cooling system is essential to maintain peak performance and extend the life of your high-speed camera. HXHFAN is a pioneer company in providing cutting-edge cooling solutions, offering advanced cooling fans specially designed for high-speed camera applications. We'll discuss the importance of cooling in high-speed cameras and how HXHFAN's innovative cooling fans are revolutionizing the field.
The role of cooling in high-speed cameras:
High-speed cameras operate by capturing an incredible number of frames per second, allowing us to observe events as they occur in the blink of an eye. However, these continuous high-speed operations generate heat, which can adversely affect camera performance and accuracy. Heat buildup can lead to reduced image quality, increased noise levels, and even technical malfunctions. To overcome these challenges, an efficient cooling system is essential.
HXHFAN Cooling Fan Introduction:
HXHFAN is a well-known company specialized in providing advanced cooling solutions for various industries. Understanding the unique cooling requirements of high-speed cameras, HXHFAN has developed state-of-the-art cooling fans, ensuring optimum performance and reliability.
Advanced Features and Benefits:
1. Enhanced heat management: HXHFAN cooling fan is carefully designed to provide excellent heat dissipation, effectively reducing the temperature of the camera during continuous use. This ensures stable heat levels and minimizes the risk of overheating, maintaining image quality and camera life.
2. Customizable cooling performance: HXHFAN understands that different high-speed cameras have different cooling requirements. Therefore, their cooling fans provide customizable cooling performance to meet the specific requirements of each camera model. This versatility guarantees an optimal cooling solution for any high-speed camera application.
3. Quiet operation: In addition to excellent thermal performance, HXHFAN's cooling fan operates quietly. The noise level is as low as XX dB, which ensures that the camera's recording ability is not affected at high speed, suitable for various applications such as scientific research, motion analysis and film production.
4. Robust design and long life: HXHFAN's cooling fans are able to withstand harsh environments. Its durable construction ensures reliable performance even under harsh conditions. The long life of the fan guarantees a continuous, uninterrupted shooting experience for high-speed camera users.
in conclusion:
High-speed cameras have revolutionized our ability to capture fleeting moments, allowing us to analyze and appreciate events that were previously unobservable. However, these cutting-edge devices require efficient cooling solutions to maintain peak performance and durability.
HXHFAN's advanced cooling fans provide the perfect solution to heat-related challenges in high-speed camera applications. With its enhanced thermal management, customizable performance, quiet operation and rugged design, HXHFAN cooling fans open up endless possibilities for high-speed photography and videography.
To unleash the true potential of your high-speed camera and take your imaging capabilities to new heights, consider integrating HXHFAN's innovative cooling fans into your setup. Experience the power of advanced cooling technology and see how it can transform your high-speed imaging adventures!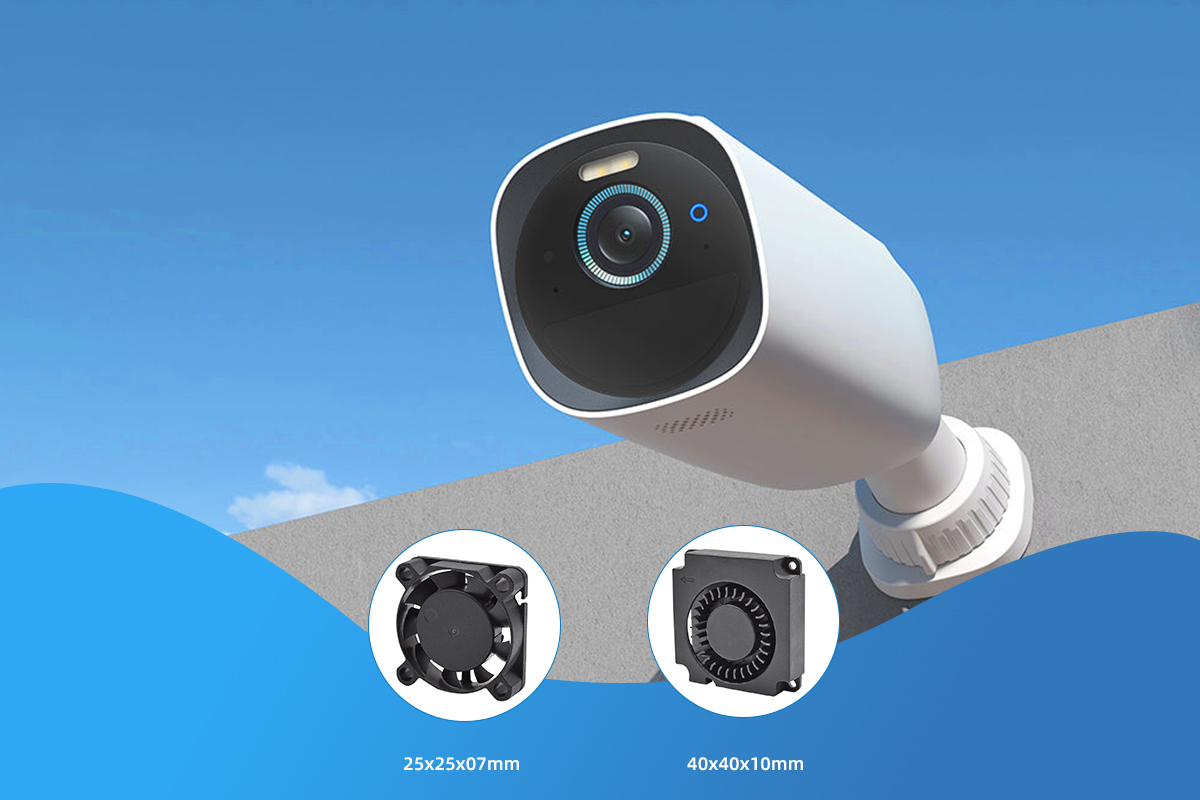 25×25×07MM

Model

Bearing

Rated Voltage

Startup Voltage

Current

Power

Speed

Air Flow

Static Pressure

Noise

Part NO.

Function

System

VDC

VDC

A

W

RPM

M

3

/min

CFM

mmH

2

O

INH

2

O

dBA

HDS2505HQ

 

Sleeve

5

4.5

0.15

0.75

13000

0.06

2.20

5.24

0.21

24.0

HDS2505MQ

 

4.5

0.10

0.50

10000

0.05

1.62

2.93

0.12

18.0

HDS2512HQ

 

12

9.5

0.12

1.44

13000

0.06

2.20

5.24

0.21

24.0

HDS2512MQ

 

9.5

0.08

0.96

10000

0.05

1.62

2.93

0.12

18.0
40×40×10MM

Model

Bearing

Rated Voltage

Startup Voltage

Current

Power

Speed

Air Flow

Static Pressure

Noise

Part NO.

Function

System

VDC

VDC

A

W

RPM

M

3

/min

CFM

mmH

2

O

INH

2

O

dBA

HBS0405UG

 

Sleeve

5

4.0

0.22

1.10

8500

0.07

2.36

7.71

0.30

28.2

HBS0405HG

 

4.0

0.17

0.85

7500

0.06

2.04

6.07

0.24

26.6

HBS0405MG

 

4.0

0.11

0.55

6500

0.05

1.72

4.57

0.18

23.7

HBS0405LG

 

4.0

0.07

0.35

5500

0.04

1.56

3.36

0.13

20.9

HBB0405UG

 

Ball

4.0

0.22

1.10

8500

0.07

2.36

7.71

0.30

28.2

HBB0405HG

 

4.0

0.17

0.85

7500

0.06

2.04

6.07

0.24

26.6

HBB0405MG

 

4.0

0.11

0.55

6500

0.05

1.72

4.57

0.18

23.7

HBB0405LG

 

4.0

0.07

0.35

5500

0.04

1.56

3.36

0.13

20.9

HBS0412UG

 

Sleeve

12

9.0

0.10

1.20

8500

0.07

2.36

7.71

0.30

28.2

HBS0412HG

 

9.0

0.08

0.96

7500

0.06

2.04

6.07

0.24

26.6

HBS0412MG

 

9.0

0.06

0.72

6500

0.05

1.72

4.57

0.18

23.7

HBS0412LG

 

9.0

0.05

0.60

5500

0.04

1.56

3.36

0.13

20.9

HBB0412UG

 

Ball

9.0

0.10

1.20

8500

0.07

2.36

7.71

0.30

28.2

HBB0412HG

 

9.0

0.08

0.96

7500

0.06

2.04

6.07

0.24

26.6

HBB0412MG

 

9.0

0.06

0.72

6500

0.05

1.72

4.57

0.18

23.7

HBB0412LG

 

9.0

0.05

0.60

5500

0.04

1.56

3.36

0.13

20.9
Automotive industry solutions
PM2.5 air detector application solution