LED lighting industry solutions
2023-05-26
LED lamp lighting industry
In recent years, the LED lighting industry has experienced significant growth and innovation. LED lighting offers many advantages over traditional lighting options, including energy efficiency, durability, and enhanced lighting options. However, efficient thermal management remains a key challenge for LED lighting manufacturers.  The rapid growth in demand for LED lighting has led to the emergence of advanced cooling solutions such as high-performance cooling fans, and HXHFAN is leading the industry.
Introduction to HXHFAN:
HXHFAN is a well-known company specialized in providing cutting-edge cooling solutions for the LED lighting industry. With a solid reputation and years of experience in this field, HXHFAN has become a trusted brand for providing reliable and efficient cooling fan systems to overcome the heat dissipation challenges faced by LED lighting manufacturers. By focusing on advanced cooling technology, HXHFAN has successfully revolutionized the LED lighting industry, ensuring optimal performance and extended lifespan of LED lamps.
The importance of cooling in LED lighting:
LED lights generate a lot of heat during operation, which if not managed properly can lead to degraded performance, shortened lifespan, or even catastrophic failure. This underscores the enormous importance of cooling in LED lighting systems. Effective thermal management not only ensures reliable operation of LED lights, but also improves their overall performance and energy efficiency, making them a viable option for numerous applications.
HXHFAN cooling solution:
HXHFAN offers a wide range of state-of-the-art cooling fans tailored to meet the diverse needs of the LED lighting industry. The company's cooling solutions efficiently dissipate heat from LED lighting systems, preventing excessive temperature rise that could damage critical components. By effectively cooling the LED lamps, HXHFAN's solution not only ensures a longer lifetime, but also maintains optimum performance, color accuracy and brightness.
Advantages of HXHFAN Cooling Fan:
1. Enhanced cooling efficiency: HXHFAN cooling fan adopts advanced technology and innovative design to maximize cooling efficiency. These high-performance fans efficiently remove excess heat to ensure the longevity and reliability of your LED lighting system.
2. Reduce energy consumption: HXHFAN understands the importance of energy efficiency in the LED lighting industry. Their cooling fans are designed to minimize power consumption while providing optimal cooling, thus contributing to sustainable energy solutions.
3. Quiet operation: With noise pollution becoming an important issue in various industries, HXHFAN cooling fans are designed to operate silently. This property makes them ideal for applications requiring a noise-free environment, such as hospitals, libraries, and offices.
4. Customized solutions: HXHFAN can meet the diverse heat dissipation needs of LED lighting manufacturers by providing customized heat dissipation solutions. The company's experienced team works closely with customers to develop custom fan systems to meet specific design and cooling requirements.
in conclusion:
As the LED lighting industry continues to grow and expand, efficient cooling solutions are critical.  HXHFAN has become an industry leader in providing cutting-edge cooling fans for LED lighting systems. With a constant focus on innovation, energy efficiency and customization, HXHFAN effectively overcomes the thermal challenges faced by LED lighting manufacturers, ensuring optimal performance, extended lifetime and enhanced reliability. With HXHFAN's cooling solutions, the future of LED lighting industry will be brighter.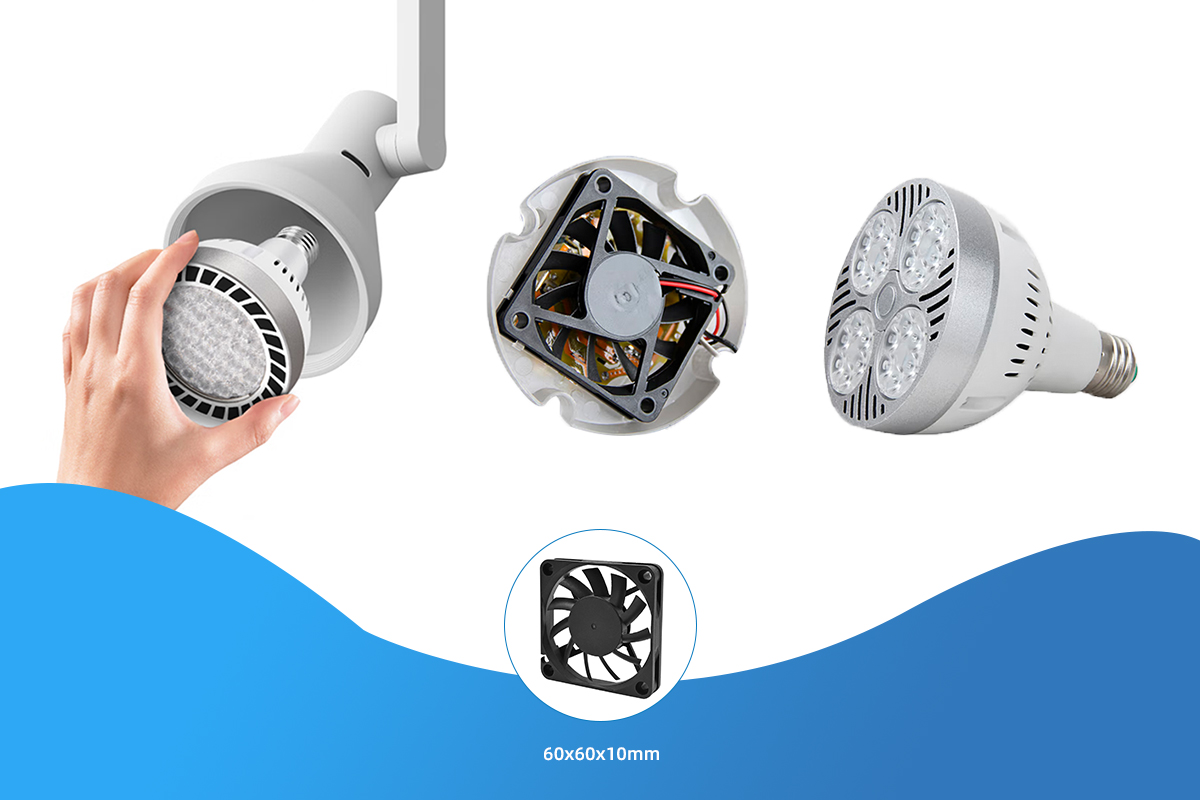 60×60×10MM

Model

Bearing

Rated Voltage

Startup Voltage

Current

Power

Speed

Air Flow

Static Pressure

Noise

Part NO.

Function

System

VDC

VDC

A

W

RPM

M

3

/min

CFM

mmH

2

O

INH

2

O

dBA

HDS0605HG

 

Sleeve

5

4.0

0.28

1.40

4000

0.43

15.09

2.31

0.09

29.2

HDS0605MG

 

4.0

0.25

1.25

3500

0.38

13.29

1.81

0.07

26.8

HDS0605LG

 

4.0

0.20

1.00

3000

0.31

10.84

1.26

0.05

23.0

HDB0605HG

 

Ball

4.0

0.28

1.40

4000

0.43

15.09

2.31

0.09

29.2

HDB0605MG

 

4.0

0.25

1.25

3500

0.38

13.29

1.81

0.07

26.8

HDB0605LG

 

4.0

0.20

1.00

3000

0.31

10.84

1.26

0.05

23.0

HDS0612HG

 

Sleeve

12

6.0

0.22

2.64

4000

0.43

15.09

2.31

0.09

29.2

HDS0612MG

 

6.0

0.18

2.16

3500

0.38

13.29

1.81

0.07

26.8

HDS0612LG

 

6.0

0.16

1.92

3000

0.31

10.84

1.26

0.05

23.0

HDB0612HG

 

Ball

6.0

0.22

2.64

4000

0.43

15.09

2.31

0.09

29.2

HDB0612MG

 

6.0

0.18

2.16

3500

0.38

13.29

1.81

0.07

26.8

HDB0612LG

 

6.0

0.16

1.92

3000

0.31

10.84

1.26

0.05

23.0
Heat dissipation solutions for the chassis and cabinet industry
Car LED lamp heat dissipation solution