DC fan How to deal with the noise of the cooling fan
HXHFAN Team | 2023-08-01
With the rising popularity of electronic devices, the demand for efficient cooling systems has also increased. Direct Current (DC) fans are widely utilized for cooling electronic devices such as computers, gaming consoles, and even some household appliances. However, the constant operation of these fans can sometimes generate irritating noise, causing inconvenience and frustration for users. This article aims to explore effective techniques to mitigate the noise of DC cooling fans, ensuring a pleasant user experience.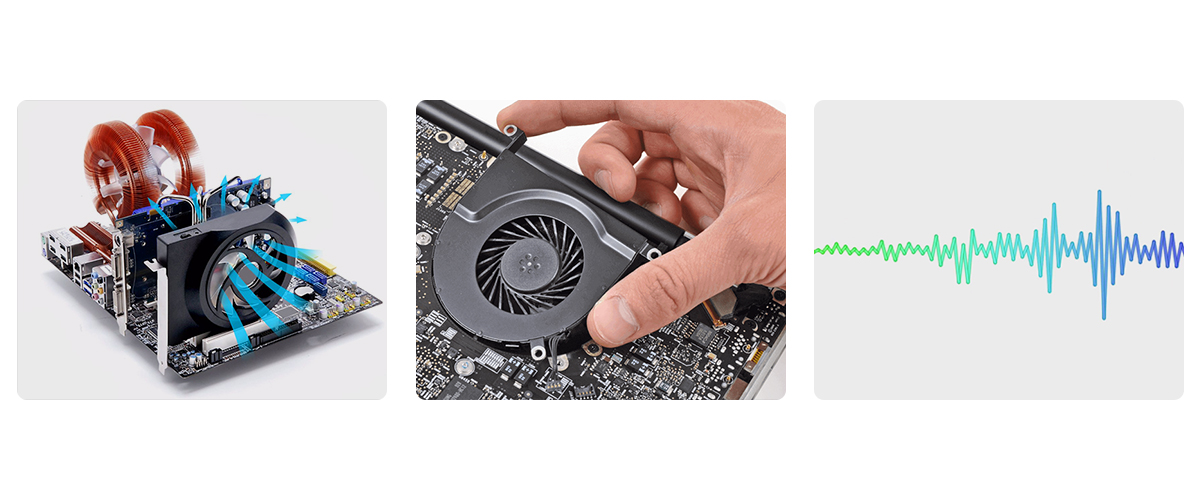 Understanding the Noise
DC cooling fans generally produce noise due to the movement of their blades and the air turbulence generated by the fan's high-speed rotation. This noise is measured in decibels (dB) and can range from a gentle hum to an intrusive whir, depending on the fan's quality, speed, and other factors. It is essential to address this issue, as prolonged exposure to excessive noise can lead to stress, sleep disturbances, and other related health problems.
Techniques for Reducing Fan Noise
1. Regular Maintenance: Dust accumulation on the fan blades can disrupt the airflow, causing increased noise levels. Regularly cleaning the fan with a soft brush or compressed air can help avoid this problem and ensure smooth and silent operation.
2. Optimal Fan Placement: Positioning the cooling fan correctly enhances its efficiency and minimizes noise. Placing the fan on a solid, stable surface, away from any obstructions, prevents unnecessary vibrations that further contribute to noise.
3. Vibration Absorption Pads: Placing vibration absorption pads or rubber grommets between the cooling fan and its mounting surface can effectively reduce noise resulting from vibration. These pads absorb and dampen vibrations, minimizing noise transmission.
4. Fan Speed Control: Many DC cooling fans come with adjustable speed controls or thermal sensors. Adjusting the fan speed to the minimum acceptable level reduces noise while still providing adequate cooling. Additionally, setting up a temperature-controlled fan speed system ensures the fan operates at higher speeds only when necessary.
5. Fan Replacement: Upgrading to a high-quality and more advanced cooling fan can significantly reduce noise levels. Look for fans designed with noise reduction technology or those that operate at a higher efficiency, delivering superior airflow with minimal noise.
6. Soundproofing Solutions: For situations where noise reduction is critical, using sound-absorbing materials can effectively dampen fan noise. Adding foam or rubber padding to the casing or enclosing the fan in a soundproof box can help isolate the noise and prevent it from spreading.
7. Software Controls: Some electronic devices offer software controls to regulate fan speeds or specific fan profiles. Utilizing these programs allows users to tailor fan performance to their specific requirements, potentially reducing noise levels.
Conclusion
While DC cooling fans are essential for maintaining optimum temperatures within electronic devices, their noise can be bothersome for users. Employing the above techniques can significantly reduce fan noise, providing a more comfortable and enjoyable user experience. Whether it's through regular maintenance, optimal placement, or upgrading to advanced fans, these solutions offer practical ways to mitigate the noise inconvenience associated with these cooling systems. By implementing these techniques, users can benefit from a quieter environment without compromising the performance of their electronic devices.
Sharing of cooling fan selection
Introduction of cooling fan bearings