UAV application solutions
2023-05-26
UAV application solutions
In today's era of rapid technological advancement, Unmanned Aerial Vehicles (UAVs) are becoming more and more common across industries. However, the efficient operation of a drone is highly dependent on maintaining optimal cooling conditions for its internal components. Haixinghe is a leading company in the field of cooling fan design, constantly pushing the boundaries to create breakthrough cooling solutions specially designed for drones.
Cooling fan: basic components:
For the heat generated by the intensive operation of the drone, cooling fans are essential. Haixinghe recognizes the importance of cooling fans in UAVs, invests heavily in research and development, and designs cutting-edge cooling fan systems. These fans provide reliable cooling by efficiently circulating air and dissipating excess heat from critical components such as generators, batteries and controllers.
Keep your drone calm under stress:
Innovative thermal management is critical to maintaining optimal performance, reliability and longevity of your drone. Starfish's cooling fan technology ensures steady airflow, preventing components from overheating and reducing the risk of performance degradation and possible system failure. These cooling fans are designed to handle the extreme temperatures, high altitudes and intense operating conditions that drones often face.
Breakthrough in cooling fan design:
Haixinghe is constantly working on breakthrough innovations in cooling fan design to provide the most advanced cooling solutions for drones. Their team of expert engineers works closely with drone manufacturers to gather feedback and understand the specific cooling requirements for different types of drone applications. By combining cutting-edge technology with industry insights, Starfish's cooling fans deliver unrivaled performance and reliability.
In addition, Starfish continues to employ advanced materials and engineering techniques to achieve superior aerodynamic efficiency, noise reduction and enhanced durability. By reducing weight and improving energy efficiency, Haixinghe's cooling fans help to extend flight time and improve the overall performance of the drone.
The Future of Drone Cooling:
As technological advancements continue to push the boundaries of drone capabilities, Starfish remains committed to leading the development of cooling solutions. With the advent of AI-powered drones and the Internet of Things (IoT), the need for more advanced cooling technologies will undoubtedly increase in the coming years.
Haixinghe's R&D team is already exploring the integration of smart cooling functions such as temperature sensors and real-time data monitoring. These advancements will allow drone operators to proactively manage cooling efficiency, ensuring optimal system performance.
in conclusion:
Haixinghe's relentless pursuit of excellence in cooling fan design has cemented its reputation as a leading provider of drone cooling solutions. By combining innovative technology, industry expertise and a customer-centric approach, Starfish continues to revolutionize the drone industry.As drones become more and more important in various fields, a reliable and efficient cooling system becomes crucial. Haixinghe is committed to breaking the boundaries of cooling fan design to ensure that drones can operate seamlessly under the most demanding conditions, ensuring the success of critical missions and applications.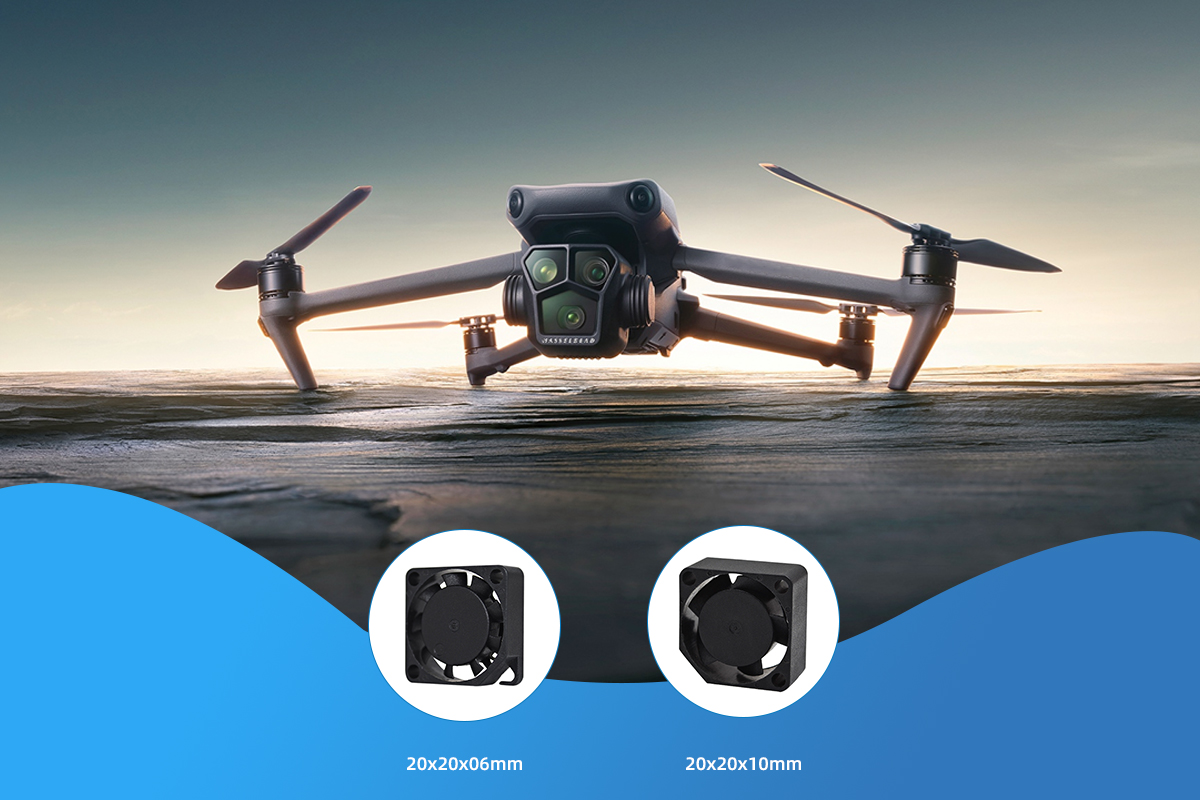 20×20×6MM

Model

Bearing

Rated Voltage

Startup Voltage

Current

Power

Speed

Air Flow

Static Pressure

Noise

Part NO.

Function

System

VDC

VDC

A

W

RPM

M

3

/min

CFM

mmH

2

O

INH

2

O

dBA

HDH0205HK

-A

Hydraulic

5

4.0

0.22

1.10

15000

0.03

1.17

3.93

0.15

14.5

HDH0205MK

-A

4.0

0.17

0.85

12000

0.03

0.91

2.51

0.10

11.7

HDH0205LK

-A

4.0

0.12

0.60

9000

0.02

0.73

1.43

0.06

8.3

HDH0212HK

-A

Hydraulic

12

6.0

0.11

1.32

15000

0.03

1.17

3.93

0.15

14.5

HDH0212MK

-A

6.0

0.10

1.20

12000

0.03

0.91

2.51

0.10

11.7

HDH0212LK

-A

6.0

0.08

0.96

9000

0.02

0.73

1.43

0.06

8.3
20×20×10MM

Model

Bearing

Rated Voltage

Startup Voltage

Current

Power

Speed

Air Flow

Static Pressure

Noise

Part NO.

Function

System

VDC

VDC

A

W

RPM

M

3

/min

CFM

mmH

2

O

INH

2

O

dBA

HDH0205HG

-A

Hydraulic

5

4.0

0.16

0.80

11500

0.03

1.04

1.30

0.05

15.6

HDH0205MG

-A

4.0

0.08

0.40

8500

0.02

0.65

0.82

0.03

11.1

HDH0205LG

-A

4.

5

0.06

0.30

5500

0.01

0.29

0.29

0.01

8.3

HDH0212HG

-A

Hydraulic

12

6.0

0.16

1.92

15000

0.05

1.89

1.89

0.07

23.6

HDH0212MG

-A

6.0

0.08

0.96

12000

0.04

1.56

1.53

0.06

16.1

HDH0212LG

-A

7.0

0.06

0.72

9000

0.02

0.81

1.03

0.04

11.5
Head-mounted display application solutions