Stage lighting cooling application solution
2023-05-26
Stage lighting cooling application solution
With the continuous expansion of the lighting market, people's requirements for stage lighting tend to have characteristic lighting such as: "energy saving, bright colors, easy to use, long life" and other characteristics are important choices for users.
While the stage lights are shining, the stage lights will naturally heat up, in order to make the stage lights work normally. Some luminaire manufacturers will use the method of attaching a drawn aluminum profile to the aluminum substrate and adding a cooling fan to heat the heat. And the cooling fan can be adjusted by software, so that the temperature of the LED is always controlled within a safe range.
Haixinghe Industrial Co., Ltd. provides many stage lighting industry manufacturers with technical experience and production capacity on stage lighting heat dissipation, and solves heat dissipation problems for users. Let your products have safety, long-running, low-power cooling products.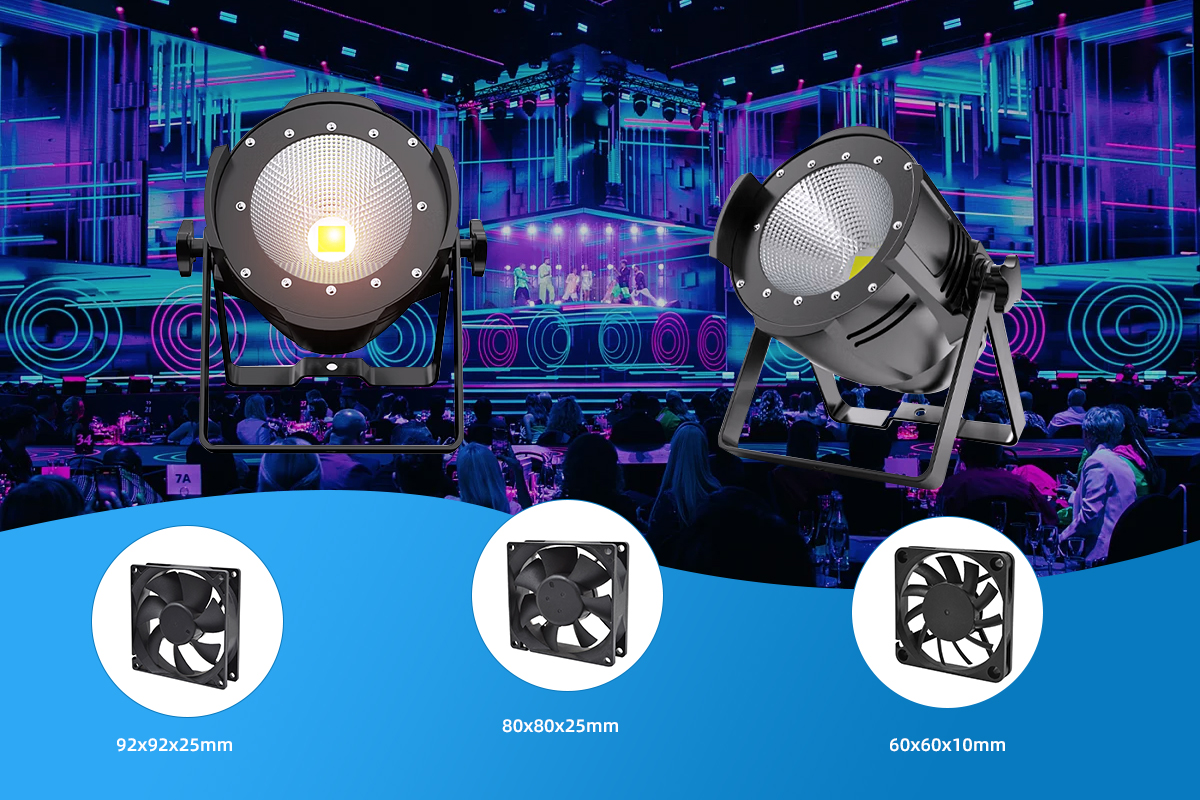 92×92×25MM

Model

Bearing

Rated Voltage

Startup Voltage

Current

Power

Speed

Air Flow

Static Pressure

Noise

Part NO.

Function

System

VDC

VDC

A

W

RPM

M

3

/min

CFM

mmH

2

O

INH

2

O

dBA

HDH0905HA

-A

Hydraulic

5

4.0

0.30

1.50

2800

1.15

40.79

3.51

0.14

35.5

HDH0905MA

 

4.0

0.25

1.25

2400

1.00

35.34

2.64

0.10

31.3

HDH0905LA

 

4.0

0.19

0.95

2000

0.85

29.89

1.91

0.08

28.4

HDB0905HA

-A

Ball

4.0

0.30

1.50

2800

1.15

40.79

3.51

0.14

35.5

HDB0905MA

 

4.0

0.25

1.25

2400

1.00

35.34

2.64

0.10

31.3

HDB0905LA

 

4.0

0.19

0.95

2000

0.85

29.89

1.91

0.08

28.4

HDH0912HA

 

Hydraulic

12

6.0

0.23

2.76

2800

1.15

40.79

3.51

0.14

35.5

HDH0912MA

 

6.0

0.19

2.28

2400

1.00

35.34

2.64

0.10

31.3

HDH0912LA

 

9.0

0.16

1.92

2000

0.85

29.89

1.91

0.08

28.4

HDB0912VA

-A

Ball

6.0

0.45

5.40

4200

1.77

62.52

7.06

0.28

47.5

HDB0912EA

-A

6.0

0.40

4.80

3800

1.53

53.96

5.55

0.22

44.3

HDB0912UA

-A

6.0

0.30

3.60

3200

1.32

46.71

4.28

0.17

39.7

HDB0912HA

 

6.0

0.23

2.76

2800

1.15

40.79

3.51

0.14

35.5

HDB0912MA

 

6.0

0.19

2.28

2400

1.00

35.34

2.64

0.10

31.3

HDB0912LA

 

9.0

0.16

1.92

2000

0.85

29.89

1.91

0.08

28.4

HDH0924HA

 

Hydraulic

24

12.0

0.11

2.64

3000

1.26

44.46

3.90

0.15

38.7

HDH0924MA

 

12.0

0.07

1.68

2500

1.04

36.84

2.80

0.11

33.0

HDH0924LA

 

18.0

0.05

1.20

2000

0.85

29.89

1.91

0.08

28.4

HDB0924VA

-A

Ball

12.0

0.25

6.00

4800

2.02

71.32

8.88

0.35

51.5

HDB0924EA

-A

12.0

0.18

4.32

4000

1.63

57.49

6.21

0.24

46.2

HDB0924UA

-A

12.0

0.13

3.12

3500

1.42

50.28

4.95

0.19

41.7

HDB0924HA

 

12.0

0.11

2.64

3000

1.26

44.46

3.90

0.15

38.7

HDB0924MA

 

12.0

0.07

1.68

2500

1.04

36.84

2.80

0.11

33.0

HDB0924LA

 

18.0

0.05

1.20

2000

0.85

29.89

1.91

0.08

28.4

HDH0948EA

-A

Hydraulic

48

24.0

0.15

7.20

3800

1.53

53.96

5.55

0.22

44.3

HDH0948UA

-A

24.0

0.11

5.28

3200

1.32

46.71

4.28

0.17

39.7

HDH0948HA

 

24.0

0.07

3.36

2800

1.15

40.79

3.51

0.14

35.5

HDH0948MA

 

24.0

0.05

2.40

2400

1.00

35.34

2.64

0.10

31.3

HDH0948LA

 

24.0

0.05

2.40

2000

0.85

29.89

1.91

0.08

28.4

HDB0948EA

-A

Ball

24.0

0.15

7.20

3800

1.53

53.96

5.55

0.22

44.3

HDB0948UA

-A

24.0

0.11

5.28

3200

1.32

46.71

4.28

0.17

39.7

HDB0948HA

 

24.0

0.07

3.36

2800

1.15

40.79

3.51

0.14

35.5

HDB0948MA

 

24.0

0.05

2.40

2400

1.00

35.34

2.64

0.10

31.3

HDB0948LA

 

24.0

0.05

2.40

2000

0.85

29.89

1.91

0.08

28.4
80×80×25MM

Model

Bearing

Rated Voltage

Startup Voltage

Current

Power

Speed

Air Flow

Static Pressure

Noise

Part NO.

Function

System

VDC

VDC

A

W

RPM

M

3

/min

CFM

mmH

2

O

INH

2

O

dBA

HDH0805UA

-A

Hydraulic

5

4.0

0.60

3.00

3500

1.16

41.09

5.44

0.21

39.4

HDH0805HA

-A

4.0

0.45

2.25

3000

0.97

34.21

4.04

0.16

35.5

HDH0805MA

 

4.0

0.25

1.25

2500

0.83

29.24

2.82

0.11

31.3

HDH0805LA

 

4.0

0.20

1.00

2000

0.74

26.23

2.17

0.09

29.7

HDB0805UA

-A

Ball

4.0

0.60

3.00

3500

1.16

41.09

5.44

0.21

39.4

HDB0805HA

-A

4.0

0.45

2.25

3000

0.97

34.21

4.04

0.16

35.5

HDB0805MA

 

4.0

0.25

1.25

2500

0.83

29.24

2.82

0.11

31.3

HDB0805LA

 

4.0

0.20

1.00

2000

0.74

26.23

2.17

0.09

29.7

HDH0812HA

 

Hydraulic

12

5.0

0.23

2.76

3000

0.97

34.21

4.04

0.16

35.5

HDH0812MA

 

5.0

0.16

1.92

2500

0.83

29.24

2.82

0.11

31.3

HDH0812LA

 

5.0

0.09

1.08

2000

0.74

26.23

2.17

0.09

29.7

HDB0812VA

-A

Ball

5.0

0.55

6.60

5000

1.66

58.54

10.34

0.41

48.1

HDB0812EA

-A

5.0

0.38

4.56

4000

1.32

46.57

6.82

0.27

40.7

HDB0812UA

-A

5.0

0.28

3.36

3500

1.16

41.09

5.44

0.21

39.4

HDB0812HA

 

5.0

0.23

2.76

3000

0.97

34.21

4.04

0.16

35.5

HDB0812MA

 

5.0

0.16

1.92

2500

0.83

29.24

2.82

0.11

31.3

HDB0812LA

 

5.0

0.09

1.08

2000

0.74

26.23

2.17

0.09

29.7

HDH0824HA

 

Hydraulic

24

12.0

0.14

3.36

3000

0.97

34.21

4.04

0.16

35.5

HDH0824MA

 

12.0

0.09

2.16

2500

0.83

29.24

2.82

0.11

31.3

HDH0824LA

 

12.0

0.06

1.44

2000

0.74

26.23

2.17

0.09

29.7

HDB0824EA

-A

Ball

12.0

0.28

6.72

4000

1.32

46.57

6.82

0.27

40.7

HDB0824UA

-A

12.0

0.18

4.32

3500

1.16

41.09

5.44

0.21

39.4

HDB0824HA

 

12.0

0.14

3.36

3000

0.97

34.21

4.04

0.16

35.5

HDB0824MA

 

12.0

0.09

2.16

2500

0.83

29.24

2.82

0.11

31.3

HDB0824LA

 

12.0

0.06

1.44

2000

0.74

26.23

2.17

0.09

29.7

HDH0848HA

-A

Hydraulic

48

24.0

0.08

3.84

3000

1.01

35.57

4.28

0.17

35.5

HDH0848MA

-A

24.0

0.06

2.88

2500

0.83

29.24

3.26

0.13

31.3

HDH0848LA

-A

24.0

0.04

1.92

2000

0.69

24.47

2.27

0.09

29.7

HDB0848EA

-A

Ball

24.0

0.10

4.80

4000

1.32

46.57

6.82

0.27

40.7

HDB0848UA

-A

24.0

0.09

4.32

3500

1.16

41.09

5.44

0.21

39.4

HDB0848HA

-A

24.0

0.08

3.84

3000

0.97

34.21

4.04

0.16

35.5

HDB0848MA

-A

24.0

0.06

2.88

2500

0.83

29.24

2.82

0.11

31.3

HDB0848LA

-A

24.0

0.04

1.92

2000

0.74

26.23

2.17

0.09

29.7
60×60×10MM

Model

Bearing

Rated Voltage

Startup Voltage

Current

Power

Speed

Air Flow

Static Pressure

Noise

Part NO.

Function

System

VDC

VDC

A

W

RPM

M

3

/min

CFM

mmH

2

O

INH

2

O

dBA

HDS0605HG

 

Sleeve

5

4.0

0.28

1.40

4000

0.43

15.09

2.31

0.09

29.2

HDS0605MG

 

4.0

0.25

1.25

3500

0.38

13.29

1.81

0.07

26.8

HDS0605LG

 

4.0

0.20

1.00

3000

0.31

10.84

1.26

0.05

23.0

HDB0605HG

 

Ball

4.0

0.28

1.40

4000

0.43

15.09

2.31

0.09

29.2

HDB0605MG

 

4.0

0.25

1.25

3500

0.38

13.29

1.81

0.07

26.8

HDB0605LG

 

4.0

0.20

1.00

3000

0.31

10.84

1.26

0.05

23.0

HDS0612HG

 

Sleeve

12

6.0

0.22

2.64

4000

0.43

15.09

2.31

0.09

29.2

HDS0612MG

 

6.0

0.18

2.16

3500

0.38

13.29

1.81

0.07

26.8

HDS0612LG

 

6.0

0.16

1.92

3000

0.31

10.84

1.26

0.05

23.0

HDB0612HG

 

Ball

6.0

0.22

2.64

4000

0.43

15.09

2.31

0.09

29.2

HDB0612MG

 

6.0

0.18

2.16

3500

0.38

13.29

1.81

0.07

26.8

HDB0612LG

 

6.0

0.16

1.92

3000

0.31

10.84

1.26

0.05

23.0
PM2.5 air detector application solution